travel services
case studies
helping you create your publications.
Peterborough City Council
Peterborough is a thriving city - a regional centre for commerce, industry, transport and leisure. Its population has grown rapidly in recent years with further growth expected.
In 2004 the Department for Transport awarded Peterborough City Council additional long-term funding for five years to become a Sustainable Demonstration Town. The money was additional to that allocated for the Local Transport Plan. The £3.24 million additional revenue funding was allocated to develop new ideas / concepts to encourage people to use sustainable travel modes. Peterborough's Travelchoice team was created to take forward the Smarter Choices initiative. The key objectives were to reduce congestion, improve people's health, reduce CO2 emissions, improve air quality and the quality of life for residents.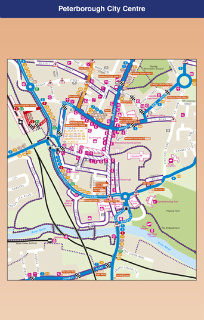 A key area for the Travelchoice team was information and communication with residents. Pindar was chosen to help with this process and in partnership with the Travelchoice team developed a new innovative interactive map. The map gives an overview of the city, right down to area and city centre level. Peterborough City Centre Map
The maps allowed the user to search for Points of Interest and obtain further information, road names, area names, places and bus stops and then show bus service information of how to reach the destination or alternatively show cycling and walking information.
The maps are layered in such a way that within the bus map layer users can view and download timetable PDFs of bus services and plan journeys using the map to select the starting point and destination.
Within the cycle and walking map layer users can select links that guide them to more information on cycling or walking in and around Peterborough.
The same mapping data was then used to produce local area guide maps, a cycle map, health facilities maps and interchange maps situated on bus stops, providing consistency in the information displayed.
As part of the partnership Pindar also produced the Peterborough Bus Timetable Booklet.
Working in partnership meant that Pindar understood the objectives of the project and could work with the council to ensure that the information provided met the objectives of the Travelchoice team.
A key aim of the Travelchoice project was to raise awareness of alternative transport and to ensure people have access to the information they need to make informed travel choices. A key way of providing this information is via a clear transport map. Travelchoice worked with Pindar to develop a base map which includes walking, cycling and public transport information. On top of this, key points of interest and local facilities were overlaid. The maps are being used for a number of uses in various locations. Interchange posters were developed and installed at key bus stops throughout the city so people can see what they can reach within a 5 or 10 minute walk of their bus stop and the interactive map offers the ability to plan a journey online. The local area guide maps remain a favourite amongst residents as they clearly show the routes and facilities in the area they live. As a result they are now offered to new residents in Peterborough through estate agents and developers as well as the more traditional places such as Tourist Information Centres.
The major achievements of the 5 year project have been:-
Active Travel (walking and cycling) up 16%
Car use has dropped by 9%
35% increase in bus passenger journeys
People are now more informed about their travel choices and are therefore more likely to change their travel mode in the future.
The success of the Travelchoice team has been recognised and at the end of the 5 year project, the team is to be integrated as business as usual within Peterborough City Council.
Peterborough Interactive Mapping Website
Peterborough City Council
Download