background
DB Regio Tyne & Wear Ltd operates the Tyne & Wear Ltd Metro (an over and underground light rail system) under a 7-9 year concession on behalf of Nexus (Tyne & Wear's Passenger Transport Executive).

The Metro provides a local passenger transport service to destinations throughout Tyne & Wear including Newcastle Airport, Newcastle Central Station, North Tyneside, South Tyneside, Gateshead and Sunderland. The scale of the operation is illustrated by the following key statistics:
78.4 route kilometres
155,626 passenger journeys per week
A fleet of 90 Metrocars
60 stations
the challenge
To design and create onward travel and vicinity posters for each Metro Station to reflect best practice, and give commuters valuable information to help them continue their journey seamlessly

Pindar Creative produces mapping and travel information products for many clients in the North East of England including Durham County Council, Darlington Council, Nexus, Stagecoach and Go North East. We welcomed the opportunity to work with DB Regio Tyne & Wear to map out the entire Tyne & Wear region for their onward travel and vicinity poster project commencing early 2014. We were commissioned by DB Regio Tyne & Wear Ltd to undertake the following:
To create an accurate, detailed and competitively priced Tyne & Wear area wide mapping base, to be shown to street level also allowing multi-purpose use for future publicity products. Our solution needed to be much more than being a simple reproduction of some widely used internet based products, which are often unclear and aesthetically not very pleasing.
To produce clear to understand and easily updated onward travel posters for 60 Metro stations in the area, providing bus and walking information in the immediate locality of each station.
To provide accurate conversion of content into multiple poster sizes and formats, remaining true to the Metro corporate style.
To produce printed material for display on a high quality substrate allowing excellent wear and tear capability.
the solution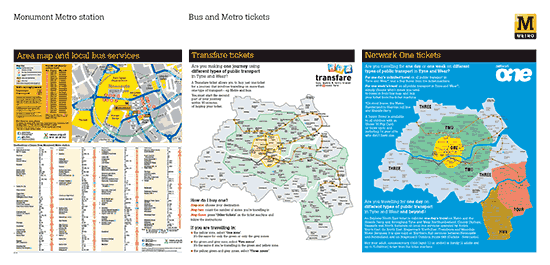 Creative design and print – 'Metro' station Onward Travel and Local Area Information Posters Pindar Creative commenced the project with the core element being a cartographic base of Tyne & Wear accurately produced through a GIS process. The principle requirement of the bespoke mapping would be to allow multiple public transport product usage by both Nexus and the operator DB Regio Tyne & Wear Ltd.

Having produced the cartography we focussed on the requirement by DB Regio Tyne & Wear Ltd for a series of local area onward travel information posters specific to each Metro station in the region. To allow this, an extract from the prepared base mapping centred on each station is taken. The extract is then enhanced to identify bus service and bus stop information in the immediate area, including an indicator of walking distance to those stops from the Metro station. The highly detailed service and local data to be included for each station has been gathered through an editorial process by Pindar Creative's specialist team.

Once assembled, all relevant information is collated and styled into an attractive agreed poster format (allowing for different frame size variations) specific to our client's branding requirements. This content includes tabular information on destinations served from each stop, zone information and other advertising content promoting the Metro brand. Throughout this process comprehensive design and proofing checks have been carried out in consultation with DB Regio Tyne & Wear Ltd and Nexus.

On approval of artwork Pindar Creative arranged printing of a series of bespoke full colour and weather resistant posters.
the result
The project went live in May 2014 with onward travel posters being rolled out to all Metro Stations.
DB Regio Tyne & Wear Ltd Case Study
Download the case study