e-paper - a future proofed, easy to implement, passenger information solution.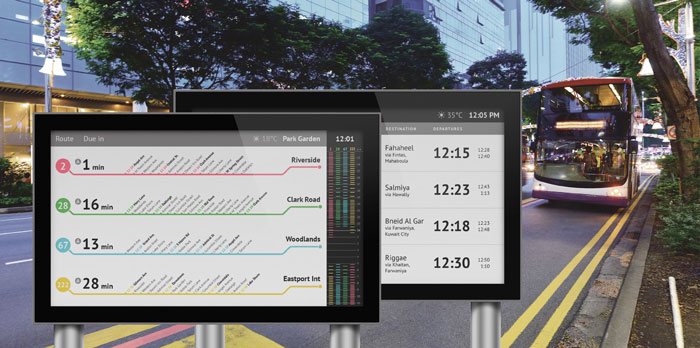 A solar powered wireless display with exceptionally low energy consumption. Our e-paper displays can be powered by a single solar panel yet still deliver the most sophisticated content of any standalone electronic display available on the market. Pindar Creative with its long term proven experience in this arena means all our clients can rest assured that our skills in design and implementation will be maintained and enhanced by e-paper displays. We hold huge repositories of content (mapping) and data (timetables) which can easily converted to work on displays.
Managing your information once e-paper displays have been installed couldn't be easier using a cloud based management information system. It enables instant changes to screens as real time data is applied. So you have integration with open data standards. The ability to display static information alongside real time, mapping, disruption messaging, weather, special events announcements and company marketing. An offering giving our clients the ultimate flexibilty to customize content exactly as they want. Pindar Creative will give you all the layout and mapping files required to run the displays.
Improving the customer experience is Pindar Creative's goal. The e-paper screens will boost customer, for example, with better bus arrival predictions. They will improve arrival time accuracy by 30%. Our clients will be able to gather detailed travel insights and benchmark service performance, we can supply you Audit ready reports containing historical data recording for compliance and audit reports. In summation enhanced analytics improving the accuracy of arrival predictions and new insights on service performance.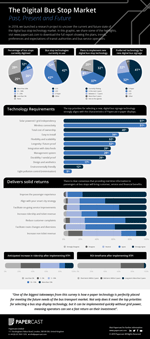 Following recent research, the Digital Bus Stop Market Infographic highlights some of the past, present and future plans, trends, preferences and expectations of transport authorities and bus service operators.
Latest e-Paper News
Find out how Pindar Creative helped Aberdeenshire install new e-paper units at Ellon Park & Ride as part of their £1.4million package of improvements at the site.