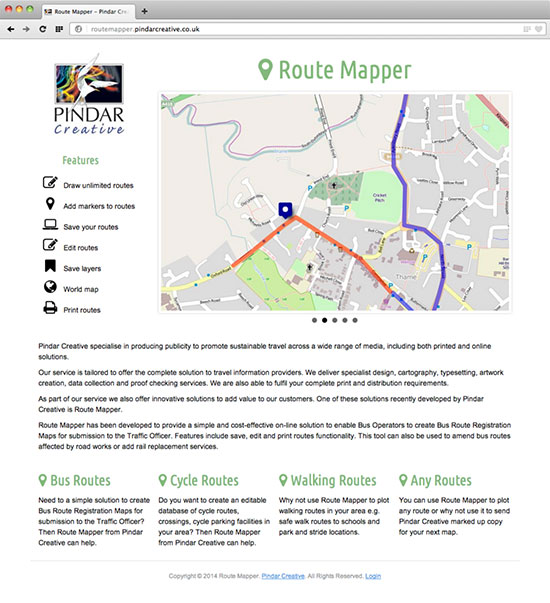 Pindar Creative specialise in producing publicity to promote sustainable travel across a wide range of media, including both printed and online solutions.
Our service is tailored to offer the complete solution to travel information providers. As part of our service we also offer innovative solutions to add value to our customers. One of these solutions recently developed by Pindar Creative is 'Route Mapper'.
Route Mapper has been developed to provide a simple and cost-effective on-line solution to enable Bus Operators and Local Authorities to create Bus Route Registration Maps for submission to the Traffic Officer.
Features include save, edit and print routes functionality. This tool can also be used to amend bus routes affected by road works or add rail replacement services.
Route Mapper can also be used to create an editable database of cycle and walking routes, crossing, cycle parking facilities, safe walk routes to schools and park and stride locations and much more.
Route Mapper features:
Draw unlimited routes
Add markers to routes
Save your routes
Edit routes
Save layers
World map
Print routes