At Pindar Creative we have automated the production of Bus Stop Panels enabling us to offer high-quality printed bus stop publicity at a cost-effective price.

Our solution includes:
The design and compilation of a range of templates to fit your various panel sizes.
Templates can include standard header and footer information, space for route maps and fillers.
Linear maps and stop specific timetables generated from TransXChange or ATCO CIF data.
Flexibility to replace stop and destination names within the data (e.g. where dynamic destination is limited to 19 characters, these can be replaced with the full name).
Stop specific or full timetables can also be supplied from various scheduling packages.
Automatics can be inserted where required.
Fillers can be added where required.
Create individual route maps.
Creation of vicinity maps centred on the bus stop showing onward travel.
Generation of NFC & QR codes and traffic analysis.
Links to real-time information.
Printed using light-fast inks and waterproof/tear-resistant material.
Panels can also be delivered in running order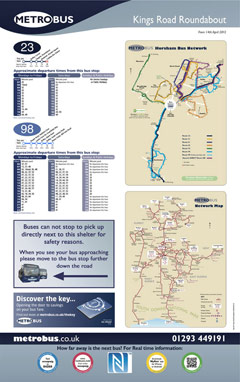 Benefits include:
Faster turnaround.
Cost-effective solution.
High quality durable panels.
Please see the following case studies providing more information:
view our bus stop publicity portfolio
Bus Stop Panels
Digital Bus Stop Panels
Find out more about our Digital Bus Stop Panels