Pindar Creative have developed a unique timetable search functionality using ATCO CIF or TransXChange data to generate:
Full Timetables showing key timing points or option to show all stops
Print Timetable function
Generate next buses information from this stop
List of services which stop at a chosen bus stop
Provide a location map centred on a bus stop
Extract data to generate printed stop specific bus stop panels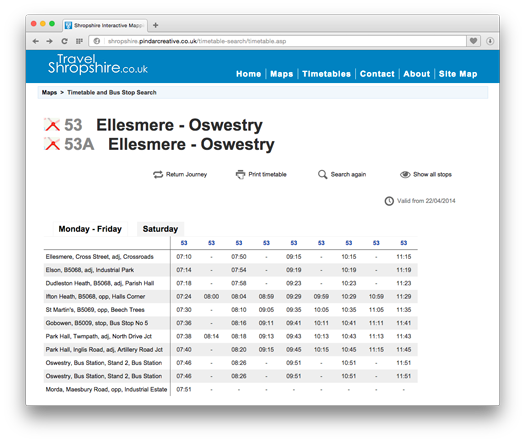 The benefits of this solution include the ability to work with ACTO CIF or TransXChange data and display as HTML rather than the traditional PDF files. This gives more flexibility and in the age of mobile internet, we can deliver a more 'responsive design' to provide a user-friendly format for phones and tablets.
This product can also be added to our interactive mapping solutions to provide comprehensive mapping and transport information online.