the challenge
The National Transport Authority of Ireland commissioned Pindar to create a series of three types of schematic public transport maps for the Greater Dublin Area. The purpose of the schematic maps was to make detailed information on travel options available to people living and working in Dublin, those travelling into Dublin as a commuter, or visiting as a tourist.
Many of the maps were location specific with each map needing to be incorporated into posters to be displayed at train stations, Luas light railway stops and bus stops/shelters throughout the city. A key requirement was that the maps had to be downloadable from their website as a printable PDF legible at A4.
Prior to commencing main production, Pindar Creative compiled a series of concept map designs and poster artwork layouts for approval for each of three complimentary map types.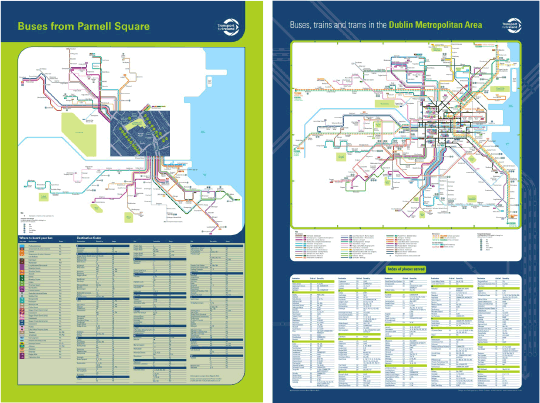 Pindar Creative's editorial team collated all the required route and service information from the individual operator websites, and from there manually marked up the detail onto a geographical base for spatial positioning and highlighting interchanges.
Our cartography team then proceeded to generate the digital cartography in a schematic form to the agreed style and scale. Once completed the schematic cartography together with onward travel listings were brought into poster artwork templates prepared by our design team.
Following a series of proofs and refinement by the client, the maps were all recently approved and rolled out throughout the City.
See final map style below: