the challenge – create new mapping publicity that is sustainable, with easily updateable content and adaptable to future enhancements.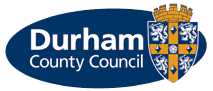 Durham County Council have published a variety of public transport maps of different styles for many years. In recent years, however, the frequency with which maps could be produced has been reduced as resources have been increasingly required to contribute to a wider range of outputs.
The need for a comprehensive network overview and a single source of timetables remained however and in autumn 2007 the Council's Passenger Transport unit were challenged to radically review their mapping publicity and to look for a sustainable solution with content that could be easily updated and enhanced over time. Pindar provided the ideal solution with a layered interactive map.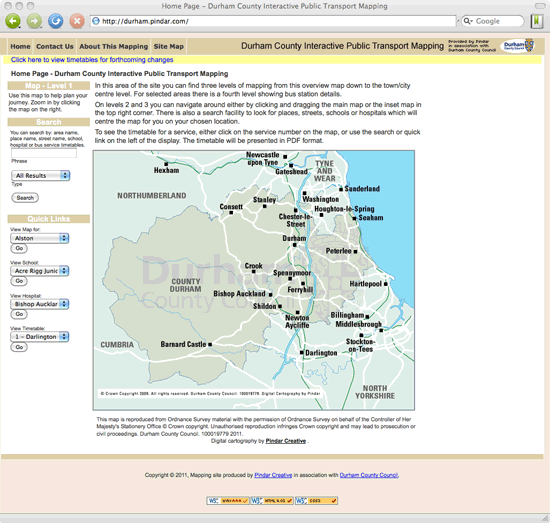 The Solution – Cartography and Interactive mapping.
In partnership with the County Council, work began in spring 2008 on creating an interactive website linked through the Council's own passenger transport web pages. Pindar produced brand new county and town maps, in addition to compiling a complete bus timetable database. The system went fully live in early 2009.
The primary functionality of the interactive map is to allow the user to navigate around and search for bus service and timetable information. Mapping is viewable at different levels, from a county overview down to a series of plans for the City of Durham and 10 other major towns.
The user can easily find the information they require through visual identification of routes, colour coded by operator, and through a search facility for bus service numbers and place names. A link maintained by Pindar is continually updated from a bus timetable and operator database. At local / city centre level, more detail is available through a series of clickable ' hot spots' leading to information on school and college locations. These educational sites can also be found through the search facility.
Changes can be made quickly and easily to the products mapping and timetable data which means that the content is up to date and accurate. More informative links can be added to the website at any time via 'hot spots' such as the County's public service sites, council offices, libraries and other key locations such as hospitals, health centres, schools and colleges. Pindar updates all the content from bus service registrations on behalf of the Council, therefore freeing up the Council's own resources.
The cartographic data produced for the interactive maps has also been used to produce a new printed map, which for the first time includes a series of town plans, thus providing consistency of information across the county and helping the Council achieve its accessibility targets.
Since going live, there has been growing use of the website, and the feedback from both users and operators has been very encouraging.
The Benefits – Consistency, one source, currency of information, innovative
The major benefits to Durham County Council have been:
For the first time all bus timetable information and mapping information is available from one source online.
All maps / town plans are consistent in content and style.
Interactive mapping and timetables are kept up to date on a continual basis.
It is offering a modern and innovative way of providing public transport information.
It meets the Council's accessibility objectives.
The product can be enhanced with new informative features when required.