The Requirement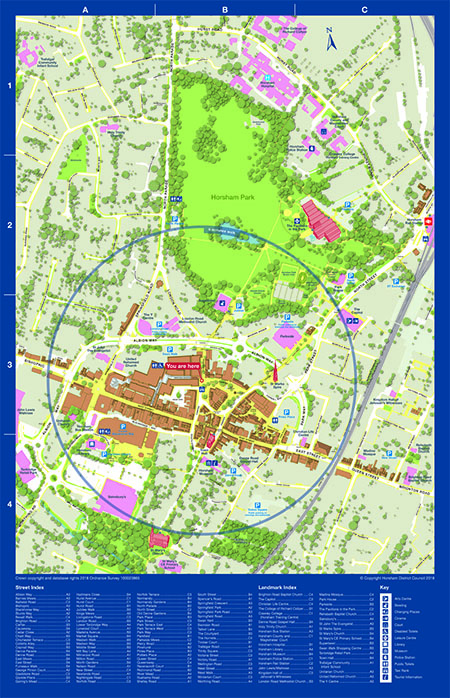 Horsham's award-winning town centre offers a wealth of heritage, including over 50 medieval buildings, superb shopping, restaurants and open-air cafes, local produce markets and antique shops. Changes to the town centre landscape, including the development of a John Lewis site, led to a decision by Horsham District Council to update the wayfinding provision to ensure that it was fit for purpose. Pindar Creative was selected to create new wayfinding mapping to promote Horsham's rich heritage and improve public access information.
The Solution
Having created a 'north up' map base, extracts were centred and rotated to create 'heads-up' wayfinding signage for 14 sites across the town. Points of interest were marked on the map and 3D models of landmark buildings were created, allowing them to be positioned according to the rotation of the base mapping. Off-map tabs provide directional information to important locations beyond the map coverage and a walking circle or 'isochrone' centred on each location provides an indication of walking times from the totem. An 'implied' grid doesn't obscure the mapping and an index of street names and landmarks is shown on each totem.
The Result
The new signage has been successfully installed at 14 sites across Horsham helping to link the transport hubs with the town centre. The mapping and wayfinding signage was designed to be sympathetic to Horsham's heritage enabling the signs to seamlessly integrate into the local landscape.
Horsham Council:

Pindar Creative have been very responsive and flexible to our needs, not only delivering clear and concise wayfinding for Horsham Town Centre, but also interpreting our brief to create solutions which truly reflect the historic nature of our historic market town.