Pindar Creative is delighted to be working with Horsham District Council replacing their existing wayfinding signs situated within the Town Centre.
Horsham's award winning town centre offers a wealth of heritage, including 50 medieval buildings, as well as superb shopping, restaurants and open-air cafes, local produce markets and antique shops.
The new wayfinding maps have been designed to promote these amenities and to improve public access information within the town.
The signs consist of heads-up mapping, with landmark buildings shown in 3D. Off-map tabs also provide the visitor with direction to important locations that is beyond the map coverage. The totems also include detailed street and 3D landmark indexes.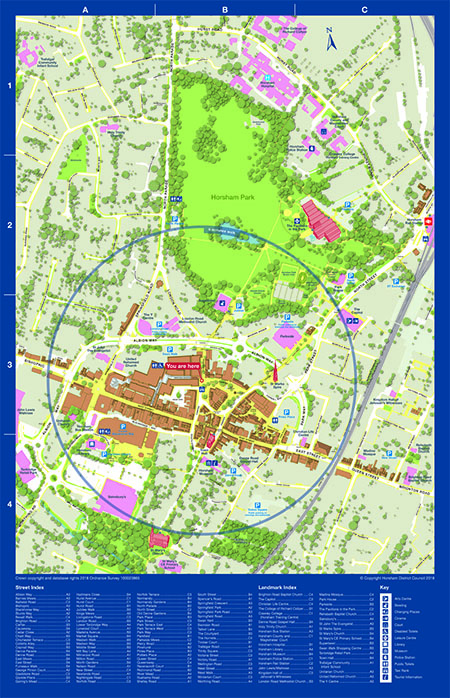 Horsham Council:

Pindar Creative have been very responsive and flexible to our needs, not only delivering clear and concise wayfinding for Horsham Town Centre, but also interpreting our brief to create solutions which truly reflect the historic nature of our historic market town.

The 14 signs once they have been erected will be found at the following locations
Horsham Railway Station
Pavilions in the Park
Park House Car Park
Horsham Park, North Parade Car park
Horsham Park Jubilee Car Park
Carfax - North East
Carfax - Entrance to Swan Walk
Carfax – Market Square
Middle Street – West
West Street/Bishopric
Albion Way/Bishopric
Denne Road Car Park
The Forum
Horsham Bus Station