This guide, funded partly by Transport for London and partly from other sources, was designed by the Council's Transport Planning & Policy section in conjunction with Pindar.
It draws on best-practice principles for the presentation of information in a clear and easy to understand format, complementing web-based information available on the Transport for London website.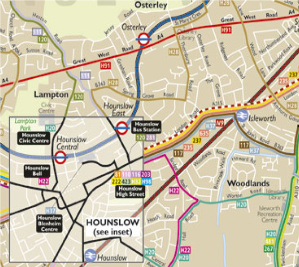 The guide features a full-colour map showing the railway lines and each of the 49 bus services operating in the Borough, in separate colours, making it easy to trace a route or decide where to transfer between services if necessary. The map extends to key destinations outside the Borough, including Heathrow, Southall, Ealing, Acton, Shepherd's Bush, Hammersmith and Richmond, and includes enlargements of the Hounslow, Feltham, Brentford and Chiswick town centres.
The reverse side presents useful information on the bus services including main points served and average frequencies.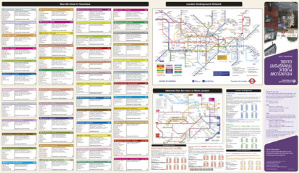 There is also a tube map and a specially designed West London rail map (schematic) with general information on tube and rail services in the Borough.
A number of staff including the area committee coordinators checked drafts of the map for local accuracy, hospitals and parks were included and wherever possible various points of interest. The guide was also double checked by London Buses staff.
The guide was distributed in the resident's monthly magazine Hounslow Matters to over 100,000 households and businesses a fortnight ago. A PDF version is also shown on the Borough's recently revamped website.
"The guide has been enthusiastically received by the community and I want to take this opportunity to sincerely thank Pindar for your dedication and fantastic work on this." said Chris Calvi-Freeman, Head of Transport, Environment Department, London of Hounslow
The Hounslow Public Transport Guide has been enthusiastically received by residents, business people and stakeholders, especially for its clear depiction of the Borough's bus routes. In the Head of Transport's six year tenure at Hounslow, he has never before received a steady stream of unsolicited calls from appreciative residents. Bulk supplies have been despatched to schools, and real estate agents have requested copies by the boxful.
The London Borough of Hounslow submitted this guide into the London Transport Awards 2009 – category Travel Information and Marketing.
This guide isn't rocket science!
In reviewing less successful map-based guides, Hounslow has avoided the main pitfalls.
The colours are clear but muted and the typefaces are simple and crisp.
The main map doesn't stop at the boundaries, because people don't.
The town centre enlargements are on the same side, in the same colours and design as the main map, avoiding the need to make a mental or visual shift to check the town centre details.
The publication is designed for simple folding and to fit easily into a briefcase, handbag or jacket pocket.
In an age of web-based information, the map meets a real and carefully-researched need:
Not everyone has the web available, and not everyone wants a schematic or spider map, especially when trying to ascertain which bus runs nearest to their home or destination.
Most people don't yet have the web available on their PDA or mobile, and just about everyone needs a simple and accurate publication they can carry with them.
People like maps! They love poring over crisp and detailed information and following lines of rivers or checking the location of parks and other attractions and how to access them.
Future opportunities could include bespoke maps for local travel plan initiatives in printed and electronic formats, as well as a periodic update of the current guide.
The Hounslow Public Transport Guide: a simple concept, very carefully executed and representing excellent value in travel information and marketing.