Background - What is the ECOPSI programme?
The European Communication Professionals Skills and Innovation Programme (ECOPSI) is a research project that explores the competencies required by communication professionals in Europe. This innovative programme is a partnership of six leading European universities in communication research and education located in Germany, Netherlands, Slovenia, Spain, Turkey and the UK. Led by Leeds Metropolitan University, this two-year research project is the first of its kind and is funded by the European Union.
The Challenge - To design and create a booklet to reflect The ECOPSI project aims:
to map and understand the actions and activities of communicators specifically in the European landscape;
to build knowledge and understanding of what they do but also what skills and knowledge they need to develop to have a shared meaning and understanding of the practice.
The solution - create, design and print - ECOPSI Booklet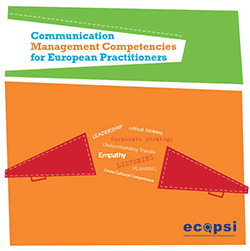 Pindar Creative was tasked by Leeds Metropolitan University to create visually appealing artwork and to provide an alternative print and finishing format for the ECOPSI study booklet.
The University provided some general guidelines with the requirement being that the booklet should be designed and printed in a format that would be be unique in comparison with similar publications, and also durable. The content was built around information detailed In the ECOPSI Research Report. Pindar Creative styled the textual content into a visually appealing structure and where appropriate converted tables to graphics In order to enhance the product appeal.
As part of this process we looked at various finishing options for the booklet and identified paper and product samples to help the client visualise a finished version. Several binding options were offered –saddle stitched, screw post, Canadian-bound with wrap around cover, and loose leaf wiro-bound. Although these options offered viable alternatives, the decision was made to go with a wiro-bound product utilising heavyweight paper and laminate, and with the asset of being able to lie perfectly flat when open.
The results
Pindar Creative designed and produced a square booklet with covers 350gsm white silk board and leaves of 200gsm white silk, printed in full colour process, plus neutral litho machine seal. Covers were laminated to the outer with a matt film. The booklets design is really eye-catching, with a communications theme of 'megaphones' used throughout the booklet for emphasis. The 'compass' image' originated by Pindar Creative works really well in conjunction with the customer's acronym text and will also be used by the customer for presentations and further publications. Overall Leeds Metropolitan University have received an excellent product with imaginative design – and on schedule.
Comments

Pindar Creative were very responsive, incorporating fast feedback while understanding our requirements. Amanda was really creative and accommodating, especially with the very tight schedule involved, even more so with a late change to the binding specification. Mike's excellent handling of the project and the challenging delivery schedule ensured the timescales for launch were maintained. We would definitely recommend Pindar Creative and will use them again for design, origination and print projects.

Hasina Juma
Leeds Metropolitan University