the customer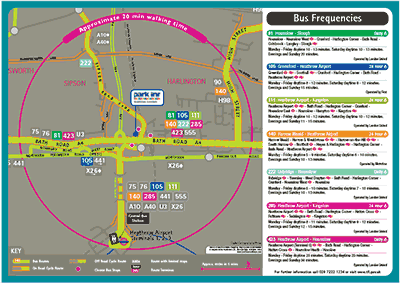 Park Inn is part of the Rezidor Hotel Group, one of the fastest growing hotel companies in the world. Focused on helping guests sleep well and live well, Park Inn hotels offer affordable and dependable accommodation which celebrates the individual personality and local colour of the area. There are currently more than 95 Park Inn locations in 24 countries worldwide.

Park Inn Heathrow is the largest hotel at Heathrow Airport and has been officially rated as a 4 star hotel by both Visit Britain and The AA.
the problem
The management of Park Inn Heathrow were worried about the impact their staff travelling to work by car was having on the local environment and wanted to improve their health and productivity by encouraging them to walk or cycle instead. Furthermore, they were also frustrated to see hotel guests making the short trip from the hotel to Heathrow Airport by car despite the provision of regular free shuttle buses. This, coupled with the problem of limited car parking space meant that Park Inn needed a solution to promote travelling via a sustainable mode of transport.
the solution
Pindar Creative had been commissioned by the WestTrans sub-regional transport partnership to map the entire West London area in a user-friendly style showing cycle, train, tube and bus routes. The maps also featured isometric circles demonstrating the estimated walking times for pedestrians.


Once the maps had been produced, Pindar Creative also designed a range of template leaflets, available in a wide range of sizes from pocket sized maps to A1 sized wall-charts. These provided a consistent style and format enabling businesses to save time and money.


Having neither the skills nor knowledge of public transport services to produce the required marketing literature Park Inn took advantage of Pindar Creative's one stop shop solution for travel to work publicity. This solution was designed by Pindar Creative to enable individual businesses in West London to promote travelling to work via a sustainable mode of transport.


Park Inn chose the A4 pocket sized leaflet from the travel to work range. The leaflet included a map centred on Park Inn Heathrow and information on bus frequencies and the different modes of travel available to reach work.
the results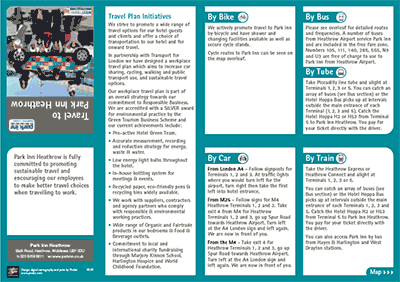 Park Inn Heathrow has successfully encouraged a 10% reduction in car use amongst its staff, helping contribute to a greener local environment and improving the health and wellbeing of its employees. Alongside this, over half of their staff now use some method of sustainable transport for their commute.


Park Inn Heathrow has also been awarded Gold accreditation by the Green Tourism Business Scheme for its efforts in environmental practice and responsible business, the first hotel at Heathrow to achieve such an award.