The new Swindon interactive cycle map website provides comprehensive and impartial route information for all cycle routes. Based upon their existing publication, 'Swindon Cycle Map 2009', produced and printed by Pindar, the Cartographic and web solutions team were able to re-purpose the map elements to create a new style of navigation similar to Google Maps.
The website has been created in partnership with Pindar to assist all abilities of cyclists with planning the best route for their journeys.
The road network shown on the main map is graded according to the degree of skill and experience needed to cycle each route. White routes are for beginners or for people who have not cycled for some time, allowing them to build their confidence on roads where traffic is lighter and speeds are low. Yellow routes are for cyclists with increased skills and experience, with Blue and Pink routes for those cyclists able to deal with heavier and faster traffic, Brown routes are for the most experienced and skilled cyclists used to the higher volumes of traffic, vehicle speeds and complex nature of junctions and turning arrangements. Off road cycle paths are regarded as the equivalent of the White category but still require caution and use of appropriate speed especially at junctions.
Grading of the routes is based on the knowledge and experience of road conditions by local cyclists. It takes into account the volume and speed of traffic, the amount of buses and goods vehicles as well as the complexity of the road system. e.g. multiple lane approaches to junctions and large roundabouts. Grading is partly subjective and has been applied to average road conditions.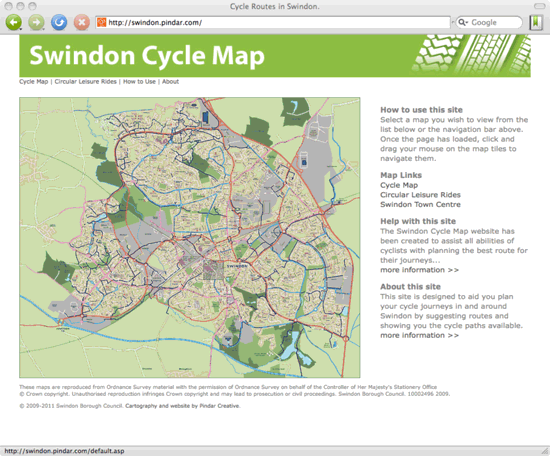 The cycle maps also work by clicking on an area, once the page has loaded the map can be navigated around simply by clicking and dragging the mouse around the maps.
For the first time the Swindon Cycle Map also includes four suggested circular leisure rides in the urban area.
There is a further Town Centre map showing cycling information such as types of cycle stands available, pedestrianised areas where there is no cycling and bus lanes where cycling is permitted. The service is hosted by Pindar on behalf of Swindon Borough Council.
"Thank you. We are really pleased with the new Cycle Map website. It represents a step change compared to previous versions and I am sure it will be appreciated by users."
said Philip Martlew at Swindon Borough Council.