New Northampton Cycle Route Network Map
Monday, 27 February 2012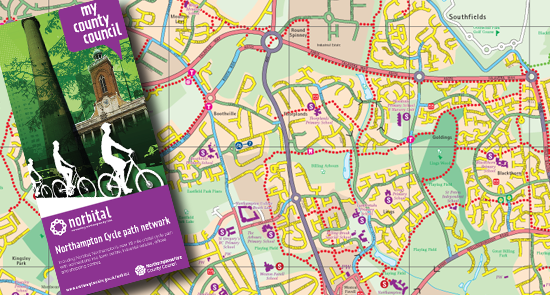 To accompany Norbital's launch, the council has published a new 'Northampton cycle route network' map (produced by Pindar Creative), which should become available at a range of public and private outlets during June.
The cover, in purple 'my county council' livery, features pictures of All Saints' church and the Lift Tower. The map is about the same size as the previous one overall, with one important difference: instead of splitting Northampton over two sides, both sides have a full map of Northampton.
One of these shows only the Nortbital and other key routes, while the other side bears the colour-coded map pioneered by John Cutler. The map is produced on paper, which appears slightly more weather-resistant then the previous version.
This new map is a very positive development and CTC Northampton should be very pleased and satisfied that the concept of rating roads according to skill level required to cycle on them has been adopted by the council.
A straight three thumbs up!
Copyright © 2012 CTC newsletter