Pindar Creative present at the West Midlands TravelWise Conference 2012.
8 May 2012

Moving Travel into the Digital Age: Methods, Measures and Tools to reduce the needs and cost of business travel – Friday 20th April 2012
The event included an introduction by Norman Baker MP, followed by a wide range of presentations and workshops on moving travel into the digital age.
Pindar Creative presented on how to use technology to enable smarter working – including advantages in GIS mapping, interactive websites, QR Codes, mobile optimised websites, apps, NFC technology and Augumented Reality. Click on the following link to view our presentation.
A transcript of the video presentation by Norman Baker MP is also available.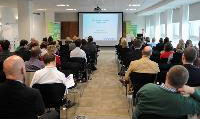 Feedback received from delegates who attended the conference was very positive, so a similar event will be held next year.