Samuel's Mural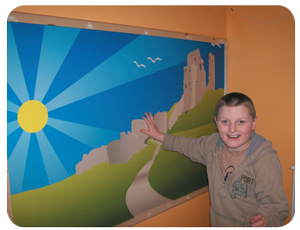 When we heard the story of nine year old Samuel Coffen, Pindar Creative were pleased to be able to provide a large mural, featuring the Purbeck Breezer image of Corfe Castle.
It's always nice to be able to give something back to the community and we were delighted to hear that Samuel was so delighted with the end result, see full story below:
Nine year old Samuel Coffen, who lives in Church Knowle, suffers from Angelman syndrome and epilepsy; he cannot speak and has severe learning difficulties although he is able to communicate some things. Samuel has long been fascinated by the dramatic ruins of nearby Corfe Castle; he readily recognised (and pointed out) the image of the castle on the sides of Wilts & Dorset's Purbeck Breezer buses. Samuel's Mother, Amelia, told the Company of this. Divisional Director Ed Wills and Marketing Team Leader Donna Vincent were pleased to arrange the production of a large mural, featuring the Purbeck Breezer Image of Corfe Castle, for Samuel to have at home. The mural was produced by Pindar Creative, a company that has undertaken printing for Wilts & Dorset for over 25 years and who very kindly agreed to share in the cost of delivering the mural to Samuel's home.
The resulting mural was very well received and Amelia contacted the Company to say

We have now put Samuel's mural up on his bedroom wall and he is absolutely thrilled with it. He is very proud of it and shows it to anyone who comes to the house. He goes straight to it when he wakes up and waves it goodnight when he goes to bed. Please pass on our huge thanks to everyone involved with providing Samuel with such a beautiful mural - it's perfect.

Original source: Coaster – Staff newsletter for Go South Coast, part of the Go-Ahead Group