Pindar Creative nominated for the ECMOD Supplier of the Year Award
Thursday, 18 October 2012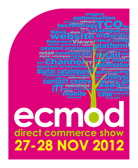 Pindar Creative are delighted to announce that we have been nominated for the ECMOD Supplier of the Year Award in the Technology Solutions category.
The ECMOD brand is synonymous with high level educational, information sharing, networking, and supplier sourcing for businesses engaged in catalogue, online and multi-channel retailing, including those that market specifically to business customers.
Founded back in 1990, ECMOD is the most highly regarded Annual Conference and Exhibition for executives engaged in the catalogue and home shopping sector.
This year the ECMOD Direct Commerce Show will take place at The Business Design Centre in Islington on the 27th - 28th November 2012.
Our passion to design, create, gather, manage and produce content has set us apart from our competitors for many years, and coupled with the support from our highly skilled and experienced employees, will continue to do so in the years to come.
We pride ourselves in establishing strong, long-term relationships with our customers and our goal is to help them improve their own communications with their customers. Whether in print or via the Internet, we can enhance these communications using our understanding of the importance of content - and of delivering that content appropriately with the end user in mind.