Shropshire Council Interactive Mapping Project
Monday, 25 March 2013

Shropshire Council has appointed Pindar Creative to develop and deliver a new Interactive Transport Mapping Website. The website will be built around newly created multi purpose mapping, and will provide integrated transport and travel information to help people travel to and around Shropshire. The website will help promote sustainable transport as part of Shropshire Council's Local Sustainable Transport Fund (LSTF) initiative.
An integral part of the LSTF bid was the development of an integrated transport website, and Pindar Creative offered a bespoke solution with three key elements essential to their requirement: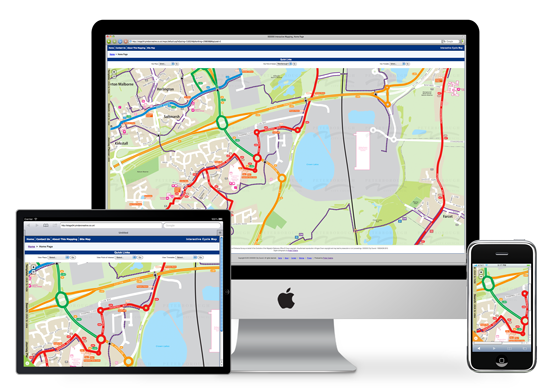 Bus route interactive mapping
Cycle and walking interactive mapping
Timetable search facility
Based upon a proven mapping framework developed by Pindar Creative, the website will be device independent allowing access via browsers, tablets and smartphones. The development of a widget system allows Shropshire the flexibility they require to offer users many additional functionality features such as keys, scale, search, journey planning and additional useful links. The mapping has been developed to incorporate multiple levels and will allow sleek zoom and pan functionality and run in full screen mode if required. The largest scale level shows detailed bus stop and transport interchange information.
The search functionality includes the facility to find area/place name, road names, bus stop name/asset number, timetables, place of interest or landmarks and postcodes. The site allows users to view places of interest for travel destinations and timetables or highlight their specific individual routes.
The website will also enable Shropshire Council to produce additional ad hoc sustainable travel publicity and mapping products for end users in a variety of different formats and styles.
For further information on how Pindar Creative can help to deliver your sustainable travel solutions, please do not hesitate to contact Mark Walmsley on 07887 578704.