Pindar Creative build new website for specialist book publishers, Kahn & Averill
Monday, 03 March 2014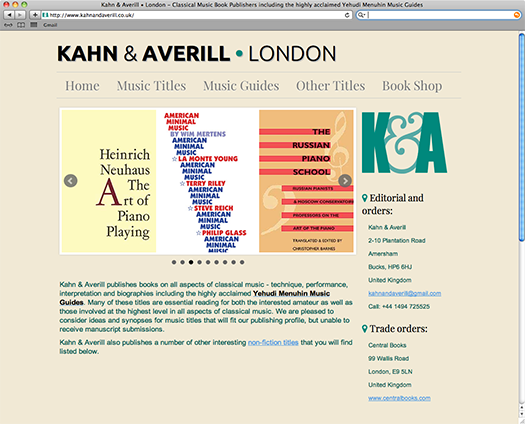 Pindar Creative are delighted to announce the launch of a new website for specialist music publisher, Kahn & Averill.
Kahn & Averill publishes books on all aspects of classical music - technique, performance, interpretation and biographies including the highly acclaimed Yehudi Menuhin Music Guides. Many of these titles are essential reading for both the interested amateur as well as those involved at the highest level in all aspects of classical music. We are pleased to consider ideas and synopses for music titles that will fit our publishing profile, but unable to receive manuscript submissions.
The website, built with the latest responsive design techniques allow users to not only view the website in a standard browser, but it adapts to the users device and renders perfectly readable on small screen devises such as smartphone allowing Kahn & Averill to reach a farther greater audience.
Do you need help making your site tablet or mobile friendly, contact Pindar Creative.