Cycle City Leeds 2014 Conference
Wednesday, 7 May 2014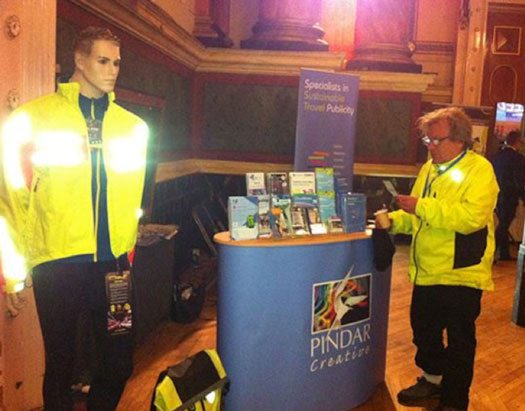 Pindar Creative was delighted to exhibit at this year's Cycle City Leeds Conference, held at Leeds Town Hall last week.
We made the decision to attend for the first time due to the packed programme, presentations and workshops available across the two day conference, with over 400 delegates attending. The conference topic was also very relevant as we are specialists in sustainable travel publicity, including cycle maps and interactive mapping websites.
It was a great opportunity for Pindar Creative to meet the customers that we deal with regularity and see and hear case studies from across the UK. It was also a very good platform for us to introduce the new printed products and online solutions that we now offer. A good example of this is the launch of our most recent interactive mapping website for Shropshire County Council, with pan-able interactive cycle and walking mapping and search functionality.
The first day was opened by Cllr Harington (Cycle Champion, Leeds City Council) and Robert Goodwell MP (Minister of Transport), followed by a panel debate on the application of International good practice to the UK. The panel included Aletta Koster (Dutch Cycling Embassy), Lilli Matson (Head of Delivery Planning, Transport for London) and Ann Kenrick OBE (Franco-British Council Chair, LCC). The afternoon was centred on four workshops including a Cycle City Knowledge Sharing Session, Future of Door to Door Journerys, Resources for Cycle Professionals and Visions of Cycling in the City.
Friday's speakers included Roger Geffen (Policy Director, CTC) on the topic of "Space for Cycling," following my a number of breakout sessions around the following topics Behaviour Change, Cycle Safety, Cycle Infrastructure, Recreational Cycling, Community and Campaigns.
Thank you to everyone who visited our stand, we hope you had a great time and if you require any additional information or have any further questions please don't hesitate to contact us.
Maria Heaman & Mark Walmsley