Highlights from 2014
Monday, 9 February 2015
We are delighted and privileged to have been successful in winning a wide range of projects last year and these are some of our highlights:
Transport for London
We have worked closely with Transport for London to produce a series of Walk London Maps to promote the 7 walk routes in and around the capital. Each walk is divided into 'satisfying bite-sized sections' and is described in detail, including interesting snippets of information as well as what you might see along the way. The sections range from between 2 – 23 miles, with the 'London Loop' having the longest overall distance across 24 sections, with a total of 152 miles!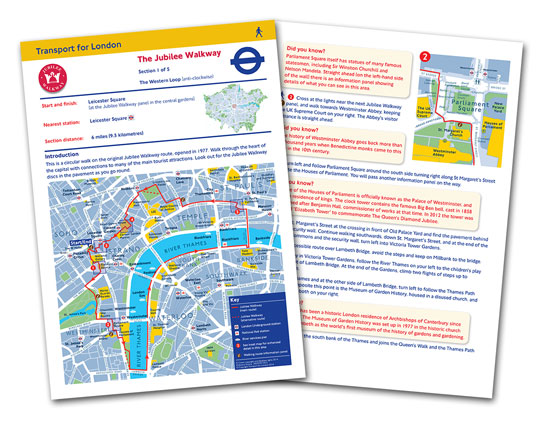 Dorset County Council
We have designed and produced a Weymouth Area Travel Guide aimed at encouraging visitors to travel sustainably when visiting tourist destinations in Dorset from Weymouth. The guide is designed to give the user information on available bus and rail routes to visitor attractions, giving detailed information including journey times, detailed maps showing attractions and bus routes, public transport options including walk times from bus stop to end destination. The guides have been distributed to Tourist Information Centres and Holiday Parks in the local area.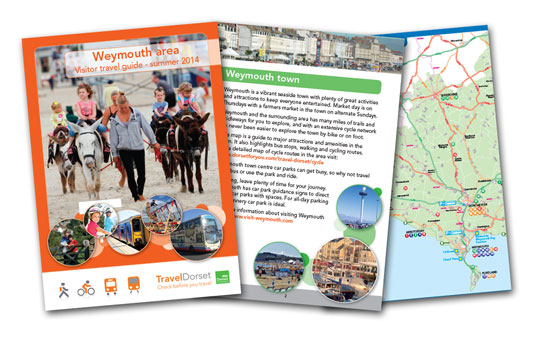 Hertfordshire County Council
Pindar Creative has mapped the entire county of Hertfordshire using GIS data and created 'Travel To' Leaflet and Wall chart templates. These templates are designed to enable a wide range of end users including businesses, residential developments, retail parks and schools to produce their own bespoke 'Travel To' leaflets. The leaflets are aimed at encouraging staff and visitors to travel sustainably.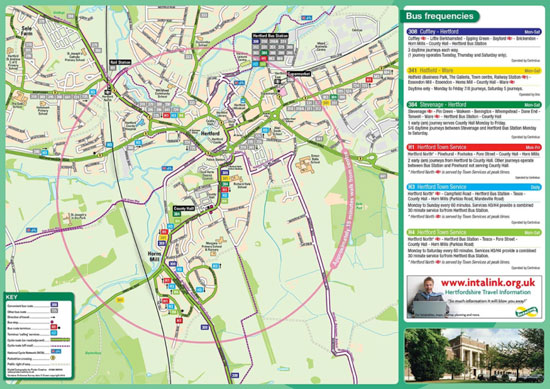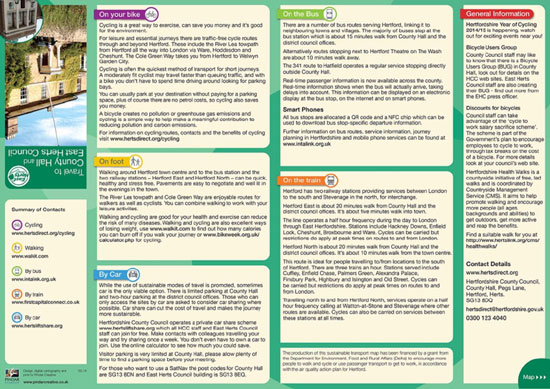 The printed leaflets can also be converted into one of our interactive website templates, which can be embedded into a website using an iFrame. The website functionality can include a pan-able map, clickable hotspots and drop down tabs containing the text information from the reverse of the leaflet artwork.
See example: https://travelplans.pindarcreative.co.uk/hertford-town-centre
Luton Borough Council
Pindar Creative developed a new interactive sustainable transport mapping solution on behalf of Luton Borough Council for the Luton area. This has been delivered as part of their ongoing 'Travel Luton' project.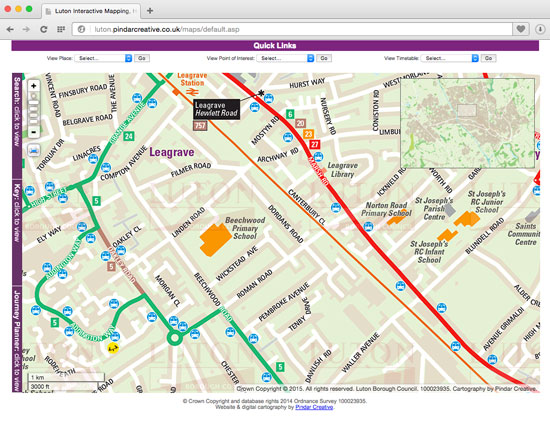 The site, based on our 'TravelMaster' product is built upon a responsive design to ensure the solution works across desktops, tablets and mobile devices.
Other key features include:
Pan-able mapping & map scale.
Multiple map layers showing different scales of mapping.
Clickable Hotspots (linking to timetables, regional journey planners, external websites).
Search functionality (locations and places, timetables and postcodes).
Quick Link to locations, points of interest and timetables.
Overview navigation.
The site is available via the Travel Luton website at https://luton.pindarcreative.co.uk
Olympic Delivery Authority
We are very proud of our accreditation from the British Olympic Association as 'Supplier of geographic and schematic mapping services (ODA) to the London 2012 Games'
We are delighted that this accreditation has led to further high profile contracts and we look forward to providing case studies in the near future.