Now it's easier than ever to find your way around Swansea city centre and waterfront
Thursday, 9 July 2015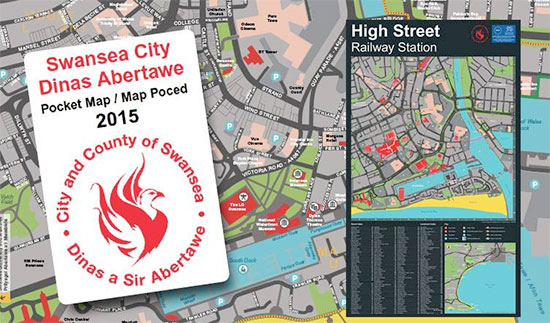 Pindar Creative specialise in producing publicity to promote Active Travel and are on hand to help Local Authorities in Wales to deliver the statutory duties under the Active Travel (Wales) Act.
POCKET maps and brand-new signage showing off the city centre and the waterfront in their finest light are getting into place just in time for the summer rush to Swansea.
Hundreds of thousands of visitors will be descending on the city over the coming months and now they'll be able to locate themselves and top city attractions with all the help they need at their finger-tips.
Permanent all-weather map monoliths are being set up at six busy locations including Swansea railway station, Wind Street, Picton Arcade, Castle Square and the bus station so no-one arriving in the city centre will struggle to find their way around.
On top of that, pocket-sized versions of the Swansea Map will be available at the Tourist Information Centre near the bus station.
Robert Francis-Davies, Cabinet Member for Enterprise, Development and Regeneration, said:

Local people know the city centre well and just how close it is to major attractions like the seafront, the LC, Swansea Museum, the Dylan Thomas Centre and the National Waterfront Museum.
Visitors aren't always aware they're little more than a five-minute walk from the city centre to the magnificent sweep of Swansea Bay and other waterfront attractions. What the maps will do is help visitors take advantage of the close proximity of so many things they can do, see and enjoy.
Putting these new signs and maps in for the start of the summer and with the Wales National Airshow less than a fortnight away was a priority.
This is just one of the key actions arising from the Destination Management Plan, when Swansea Council and partners are working together to improve the visitor experience. The airshow will welcome around 200,000 visitors to the City, so the timing of this project is perfect.

Maria Heaman of Pindar Creative, who created the map for the council, said:

The team at Pindar Creative was delighted to work with the City and County of Swansea to develop a 'Swansea Map' brand for the city.
The final map design created an intuitive and attractive wayfinding map of the city, highlighting the numerous attractions and amenities within close walking distance from the city centre. It really is a city worth exploring, with an amazing beach just a short walk from the shops.