latest news
from Pindar Creative.
Pindar Creative News Archive
events
testimonials
First Active Travel Map for Wales
Tuesday, 20 December 2016
The City & County of Swansea, in partnership with Neath Port Talbot County Borough Council comissioned Pindar Creative to design and print a new walking and cycling map of the Swansea Bay area, encompassing the two Council areas in support of the requirements of the Active Travel (Wales) Act.
The Active Travel (Wales) Act 2013 (ATA) commenced on 25th September 2014 with the primary purpose of encouraging more active lifestyles and securing the health and well-being benefits that will result from increased physcial activity.
The maps were requireed to show the Active Travel routes which included on road, shared use, segregated or traffic free and a range of facilities and landmarks including:
Road Crossings
Cycle parking, shelters or storage
Public toilets
Public transport interchanges
Tourist advice centre or leisure/tourism atttractions
Cycle maintenance and repair shops
We produced two separate printed A1 maps with one guide covering the main Swansea urban areas whist the other covered the Neath and Port Talbot urban areas. The detailed mapping was drawn at a scale of approximately 1:19,000.
The comprehensive mapping covered both sides of the leaflet, with separate inset maps showing surrounding urban areas.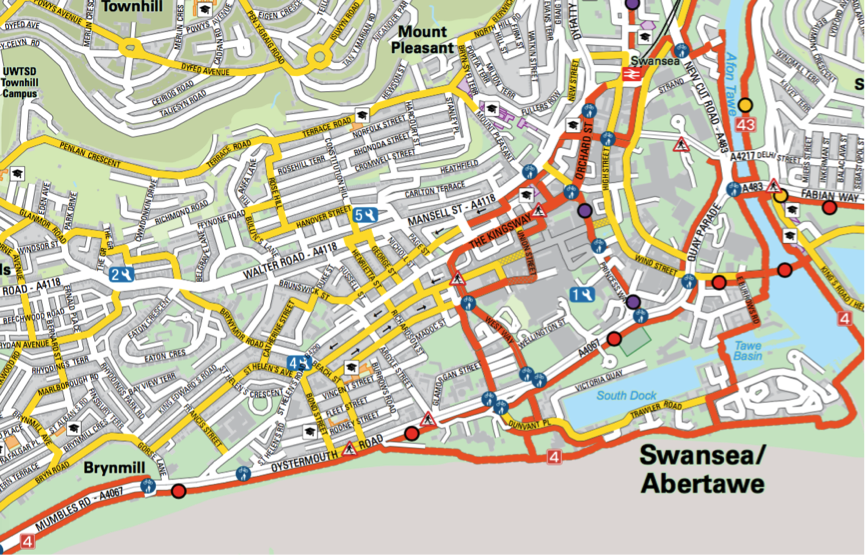 We also created an interactive online version of the map enabling the public to view a fully pan-able and zoom-able map on the City and County County Council's website:
http://travelplans.pindarcreative.co.uk/swansea/
Pindar Creative has been an absolute pleasure to deal with! The staff have strived to incorporate our requests throughout the project to ensure that we received an excellent quality product, which has been extremely well-received by the public. I would highly recommend Pindar Creative if you are looking for innovative and easy-to-use products and I look forward to working with them again in the future.
CITY AND COUNTY OF SWANSEA