Pindar Creative
Modeshift National Sustainable Travel Awards
06 September 2018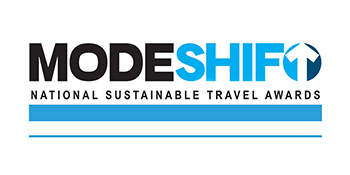 Pindar Creative is delighted to be shortlisted for 'Best sustainable travel initiative – Community' category at the Modeshift National Sustainable Travel Awards.
The Awards are designed to recognise and reward Modeshift Members for schemes, projects or other activities that support and encourage sustainable travel, by highlighting best practice, showing innovation and being inspirational.
The nominations were shortlisted by the Modeshift Management Board, over the summer. Members and Partners are now invited to vote for one entry in each category. The average vote for each organisation will be calculated to give the final score, giving one overall vote per organisation.
Voting will close on 21st September. The winners will be announced at the Modeshift Convention Awards Dinner, at Sheffield City Hall, on Thursday 1st November.
Click here to vote for your favourite entry. (https://www.modeshift.org.uk/2018-awards)
About our nominated software - SALI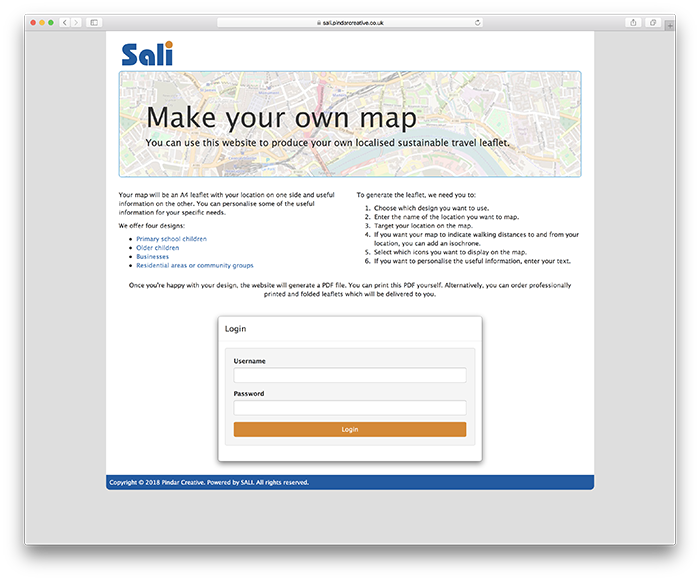 SALI is an innovative, user-friendly online portal enabling establishments to generate sustainable travel leaflets (web and print) for their location. Using OpenStreetMap data and combining with one of a series of pre-defined templates (businesses/schools/groups), users are able to create tailored publications.
The user can:
Zoom to the desired scale of mapping
Move the locator icon and re-centre the map
Add isochrones to indicated walking/cycling times
Drag-and-drop a series of icons onto the map to indicate cycle parking, zebra crossings, etc.
Once happy with the layout, the user can generate a PDF file comprising the personalised map (a key is added incorporating any icons the user has added to the map) combined with a pre-defined template showing the name of the site. The user can print this PDF, upload it to a website or email to visitors. Alternatively, professionally printed and folded leaflets can be ordered.