Pindar Creative
Sustainable travel portal for Lancashire CC
24 December 2018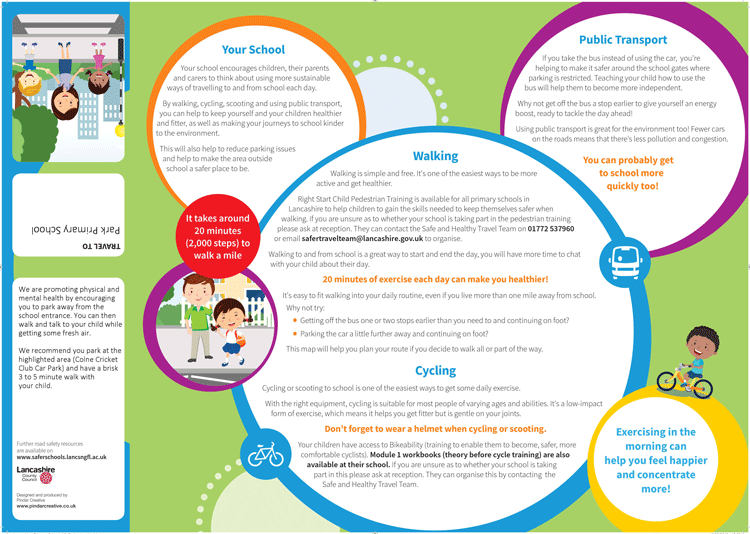 Lancashire County Council has commissioned Pindar Creative to create an online portal that allows schools and workplaces across Lancashire to produce their own sustainable travel leaflet featuring a site-specific map.
The intuitive mapping portal, SALI (Semi-Automated Leaflet Interface), allows users to choose one of three templates (primary school; secondary school; workplace) which provide useful information on active and sustainable travel.
Users can add up to two isochrones to indicate walking times from the site and icons can be dragged and dropped onto the map to show the position of cycle parking, park and stride locations, and crossings. Lines can also be added to the map to indicate walk routes, restricted parking, and suggested cycle routes.
The portal is part of an initiative which aims to encourage people to walk more, improving levels of health and fitness, while reducing congestion, air pollution and parking issues.
Lancashire County Council launched the portal at Park Primary School in Colne during Road Safety Week (19-25 November) by presenting all pupils and staff with a site-specific Walkzone map. The map encourages parents to park away from the school and enjoy a short walk with their child.
Members of the School Council presented an assembly on the importance of staying safe when walking to school, which included advice on wearing bright/fluorescent clothing during daylight and reflecting clothing or accessories during darkness. The assembly was attended by County Councillor Shaun Turner, Cabinet Member for Health and Wellbeing.
Mr Farry, Year 5 Teacher & P.E Coordinator:

Weeks in the planning, our School Councillors walked the route around our school 5/10 minute walk zone, they identified crossings and potential safe parking zones away from our school. The School Councillors were deeply immersed in 'Road Safety Week' trying to make a success of this 'Travelling to School' project.

The children were really proud of presenting their hard work at the launch assembly. They feel, with the 'walkzone' maps being sent home to parents, that this can have a real impact on the local environment and overall safety and well-being of our children in the future.