Pindar Creative
New Wayfinding Map for Otley Town Council
01 February 2019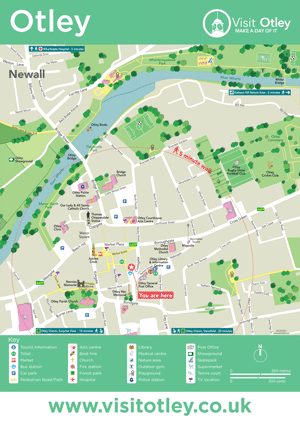 Otley describes itself as the friendly down-to-earth market town that bridges cosmopolitan Leeds and the picturesque Yorkshire Dales. Their efforts to increase visitor numbers have been rewarded by being shortlisted in the 2018 British Coach Tourism Awards in the coveted Coach Friendly Destination category.
The increased number of visitors led Otley Town Council to commission Pindar Creative to create a new wayfinding map to be displayed at key interchanges around the town.
Many visitors are attracted to Otley through its frequent use as a 'TV location', with frequent visits from the cast and crew of Emmerdale, Heartbeat and DCI Banks. The semi-pictorial maps have been designed with legibility in mind and include a 'you are here' icon allowing visitors to orientate themselves easily. An isochrone illustrates that most attractions can be reached by foot in a few minutes and pedestrian areas are clearly marked.
The map signposts visitors to the Chevin where a short hike is rewarded with breath-taking views over Wharfedale.