Pindar Creative
Guide to Leicester
27 September 2019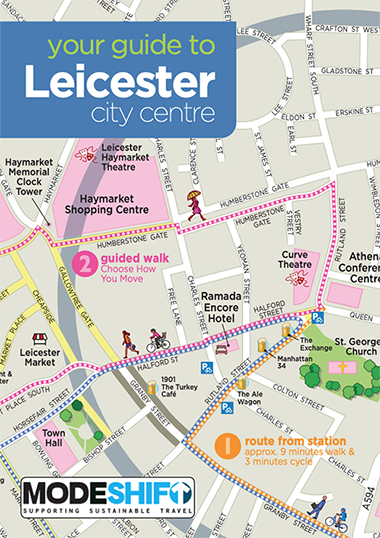 This year's Modeshift convention will take place on the 7th and 8th November at the beautiful art-deco Athena Conference Centre in the heart of Leicester's Cultural Quarter.
This two-day conference brings together industry professionals from a range of sectors to showcase and share best practice in the delivery and promotion of sustainable travel. Modeshift will present a range of speakers from leading organisations who are at the forefront of sustainable travel promotion.
This year's theme is the 'Multi-Disciplinary Nature of Promoting Sustainable and Active Travel' which will look at the broader role professionals need to play to deliver against wider societal objectives as a collective. Ride Leicester and Choose How You Move will be leading a guided walk and ride allowing delegates to visit some of the exciting new infrastructure developments in Leicester.
The Modeshift National Travel Awards - designed to recognise and reward Modeshift Members for schemes, projects or other activities that support and encourage sustainable travel - will also take place on the evening of the 7th November. Pindar Creative is delighted to have been shortlisted for 'Best Sustainable Travel Initiative – Business' and we wish all the other nominees good luck.
As a proud partner to Modeshift, we were delighted to be asked to produce a guide to help delegates make the most of their visit to Leicester, and encourage sustainable travel to the venue. Delegates can pick up a printed copy of the guide at the convention or download the PDF ahead of the event.
To register for the event, please visit Modeshift's website . We will be showcasing some of our latest projects and solutions at the convention, so please do pop over to the Pindar Creative stand to find our more.