Pindar Creative
Cycle Map for Kirkcaldy and Surrounding Area
15 April 2020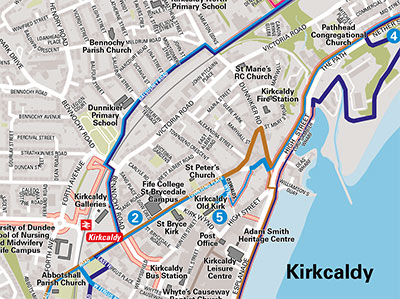 Greener Kirkcaldy is a community-led charity and development trust working on a local scale to benefit people and the environment. Formed in 2009, their team of 20 staff, over 50 volunteers and around 500 members deliver projects to meet the needs and aspirations of local people, tackling fuel and food poverty, protecting and enjoying the environment and bringing the community together.
Following requests from residents for an up-to-date cycle map, Greener Kirkcaldy decided to commission one and secured funding from Smarter Choices, Smarter Places to do so, as part of a wider walking and cycling project. The map aims to encourage more people to get out cycling, including people who are new to, or returning to, cycling.
As well as highlighting the town's traffic-free shared-use paths, the map shows six routes, ranging from an introductory 3.6-mile ride to a leg-stretching 13-mile leisure route exploring some of Kirkcaldy's castles and towers. The Heritage Plaque Track was developed in conjunction with Kirkcaldy Civic Society and is a great way to discover some of the town's many historic sites by bike.
Pindar Creative was selected to create the cycle map, which includes an inset map extending the coverage out to Glenrothes, a neighbouring town that a lot of people commute to. The photographs supplied by Greener Kirkcaldy highlight the town's three main parks and the coastal path, as well as the town's heritage. A scale bar showing both miles and kilometres and time-distance bars helps users gauge distances and travel times by bike.
Intended for both residents and visitors to the area, the guide aims to encourage people to cycle to key destinations in and around the area, or for day-to-day journeys, such as commuting or shopping.
Susan Jeynes, Active Travel Development Worker at Greener Kirkcaldy said:

We know that local residents are nervous of cycling on busy roads, so we were keen to produce a map showing people how to reach key destinations in the town using paths and quieter roads. The map combines this with some leisure routes and information about some of the points of interest in the area, such as local castles. We are delighted with the finished map, and hope that it will encourage people to cycle more.

Carl Thomas, Managing Director at Pindar Creative added:

We're delighted to have been involved in a project that encourages people to enjoy the heritage and landscape that Kirkcaldy offers. Our skilled cartographers understand that legible mapping is key to encouraging novice cyclists to get out and about. Clear and concise mapping should help people make informed decisions between different modes of transport and give them confidence in the routes they choose.