Pindar Creative
Interactive Cycle Map for Basingstoke & Deane Borough
15 June 2020
Basingstoke & Deane Borough Council recognises the significant benefits that cycling provides, including improvements in health and wellbeing and helping to reduce the number of people driving cars for their journey.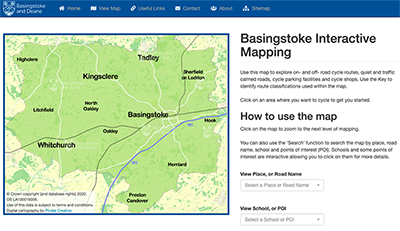 The Borough benefits from the National Cycle Network (NCN) Route 23, which is largely traffic-free between Basingstoke Town Centre and Chineham and a new additional stretch has also been opened linking Basingstoke with Alton and New Alresford.
As part of their cycling strategy, they wanted to refresh and update their current cycle map to enable users to have the ability to access an on-line version of the map.
Based upon a proven mapping framework developed by Pindar Creative, Basingstoke and Deane Borough Council selected Pindar Creative to refresh their existing cycle map and create an interactive on-line version of the map.
The refreshed map design highlights designated on- and off-road cycle routes within the borough, quiet or traffic-calmed roads, cycle parking, key public transport interchanges and points of interest.
The interactive map is device independent allowing access via browsers, tablets and smartphones. The user can pan around the map, zoom in and out, and click on key features on the map to view additional information. They can also report any related maintenance issues easily using a link to the 'report it' facility on the BBDC website.
Peter Smith, Senior Transport Officer, Basingstoke and Deane Borough Council said:

Feedback from residents indicated that our current cycle map required significant updating. We also needed to respond to the changing requirements of cyclists in the borough and move away from paper-based maps using technology which could operate across a number of platforms. Additionally, we needed to ensure that we could make updates more easily in order to provide the most up to date information.

Pindar was able to supply a package that best suited our requirements at a reasonable price. The deadlines for this project became extended by circumstances beyond our control and Pindar were happy to be flexible and were helpful in their approach in bringing the project to a very satisfactory conclusion.