Pindar Creative
Staffordshire's Active Travel Team Choose SALI to Promote Active Travel
11 September 2020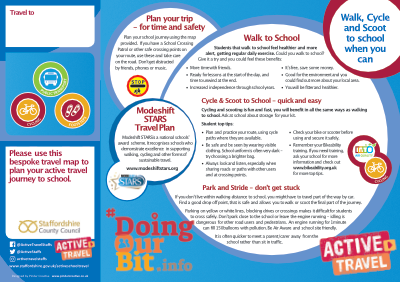 With fewer places available on public transport for the foreseeable future, there is a risk that more parents will choose to use the car for the whole of the school journey resulting in increased congestion, parking problems and air pollution. Staffordshire County Council's Active School Travel Team have worked with schools across the county to encourage children to think about walking or cycling to school when they return to the classroom in September.
The team worked through the summer with headteachers and transport operators regarding travel planning for the autumn term and chose Pindar Creative's intuitive mapping portal, SALI, to help deliver travel plans to hundreds of urban and rural schools. The portal enabled the team to create site-specific maps for 365 schools delivering active travel advice to over 120,000 pupils.
The maps were emailed to parents ahead of the start of term encouraging them to consider whether their child could walk, scoot or cycle to school - and if that's not possible to look at ideas like 'park-and-stride' where they can be safely dropped off and picked up a little distance from the school rather than at the gates.
Users chose between a primary or secondary school template before adding up to two isochrones to indicate walking times from the site. Drag-and-drop icons were placed onto the map to show the position of walking bus stops, park and stride locations, and crossings and the team added lines to the map to indicate park-and-stride routes, walking bus routes, and suggested cycle routes.
The leaflets set out the benefits of active travel and encouraged parents and students plan and practice their route in advance of the start of term.
Staffordshire County Council was awarded an initial £183,000 Emergency Active Travel Fund allocation to support the installation of temporary cycling and walking projects for the COVID-19 pandemic.
More than 30 local authorities are now using Pindar Creative's online portal, SALI, as a cost-effective way of promoting active and sustainable travel to schools, workplaces and residential developments. For access to a demo site, please get in touch.