Pindar Creative
NHS England STP/CCG Map 2021 Edition Now Available
13 May 2021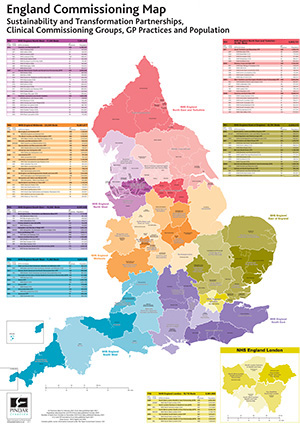 Pindar Creative has updated their NHS England Clinical Commissioning Group (CCG) Map to include recent changes that took effect in April 2021, following NHS England's approval of nine new CCGs. A total of 38 existing CCGs have merged to form the nine new CCGs, reducing the number of CCGs in England from 135 to 106.
CCG's are responsible for assessing local needs, deciding strategies, and purchasing services on behalf of the population from providers such as hospitals, clinics, and community health bodies.
The newly updated map shows Sustainability and Transformation Partnerships (STP) as well as CCG boundaries. The seven NHS England Regions are colour-coded, with CCGs working together shown in the same colour. An inset map of CCGs in London, and a CCG list for each region is included showing CCG/STP codes, number of GP practises and population per CCG/STP. The map is available as a printed A1 dry wipe (write on/wipe off) poster, or as a PDF or JPEG for web use or PowerPoint presentations.
While Clinical Commissioning Groups (CCGs) are a feature of the English NHS, Pindar Creative has also created maps showing the structure of NHS Wales, NHS Scotland, and NHS Northern Ireland – as individual maps, and as a combined map of the United Kingdom.
Regional and county CCG maps are also available showing the new boundary data released in April 2021. In addition to the information shown on the England CCG map, the regional CCG maps show the locations of hospitals, while the county CCG maps include the locations of hospitals and GP practices. Pindar Creative also offer a customised mapping service to include relevant health data and client branding.
Visit the website to purchase any of the healthcare map products.