Pindar Creative
New wayfinding signs to promote cycling in and around Bedford
7 October 2021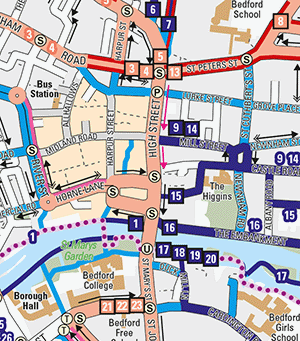 Bedford is a lovely place to cycle around, with some great on and off-road cycle routes and is mostly flat, making it suitable for every level of cyclist.
This summer, Bedford Borough Council installed new wayfinding cycle signs around the town. The wayfinding totem signs promote the popular signed radial cycle routes and connecting routes across Bedford.
Each totem sign features two maps: one showing a zoomed-in section of the town centre with and the second map shows the entire Bedford cycle network to help cyclists plan their end-to-end journey.
Why not give cycling a try! it is a cheap way of getting from A to B and, for short journeys, it is often the quickest option. It can reduce your stress levels and increase your overall health.

We are delighted to have been able to deliver this project, which has been possible as part of our largest-ever investment in cycling in the history of Bedford Borough of over £5 million. This funding will supercharge walking and cycling in the Borough and help us continue to deliver the necessary infrastructure required to support residents to cycle safely and confidently.

Cllr Charles Royden, Portfolio Holder for Highways and Transport
Pindar Creative is a leading expert in promoting active and sustainable travel. For further details on mapping for cyclists and pedestrians, please get in touch on 01296 390100 or via our website.