Pindar Creative
Modeshift Honorary Membership for Maria Heaman
19 January 2022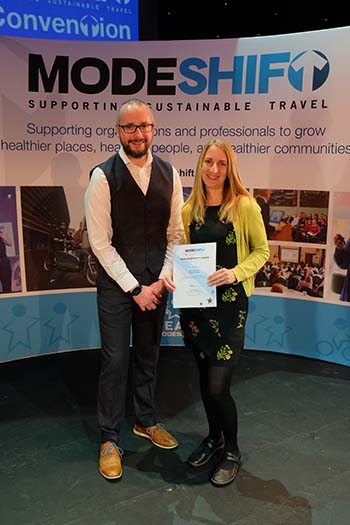 We are delighted to announce that Maria Heaman has been awarded the title of Team Modeshift Honorary Member at the 2021 convention held in Leicester. Modeshift recognises individuals for their contribution to Modeshift and the wider field of sustainable travel.
The Honorary Membership is a lifetime title that is granted to individuals that have made an outstanding contribution to the development and expansion of Modeshift, and the implementation of its aims and objectives. Their contributions locally, regionally and nationally over a significant period of time will have played some part in raising the profile of Modeshift's objectives and ensuring that the work of the organisation is recognised by others.
Typically, members have been involved in supporting and sharing best practice or volunteering for Modeshift and support the objectives:
Increase levels of sustainable travel
Support Modeshift's position as a centre of excellence for sustainable travel best practice
Support the growth of the organisation – members, businesses, schools and communities
Maria Heaman, Commercial Director at Pindar Creative commented:

I was surprised and delighted to hear I was to become an honorary member of Team Modeshift. It really is a privilege to be working with such a dedicated group of individuals who are committed to making a difference, I couldn't think of a better organisation to be a part of.