Pindar Creative
Bradford St Luke's Hospital Walking Map to promote active travel
6 February 2023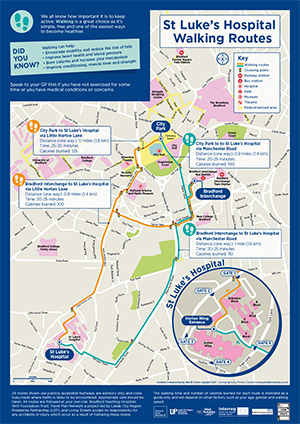 A new map aimed at boosting the number of people travelling on foot between Bradford city centre and St Luke's Hospital has been launched.
The map, which was launched during #nationalwalkingmonth, includes two route options from Bradford Interchange and City Park to St Luke's Hospital. The project was a collaboration between the West Yorkshire Combined Authority, Bradford Teaching Hospitals NHS Foundation Trust and Living Streets, the UK Charity for everyday walking.
Living Streets planned the two routes before commissioning Pindar Creative to produce a user-friendly map. The map is available to staff and outpatients to encourage them to walk the 25-minute journey from the city centre to St Luke's.
Tracy Brabin, Mayor of West Yorkshire, joined a led walk during the launch of the initiative and met with staff at St Luke's Hospital. She commented:

Walking is one of the most accessible ways to travel. It is something most of us do every day, you can do it straight from your front door and it does not have to cost a penny.
We know getting more people walking, as well as cycling, is part of the solution to so many of the challenges we face – from boosting our health and wellbeing, to reducing congestion on our roads, improving the air we breathe and tackling the climate emergency on our way to becoming a net zero carbon economy by 2038.
Supporting more people to walk is just one example of how we are helping make West Yorkshire an even better place to live, work, raise a family and flourish.

Carl Thomas, Managing Director at Pindar Creative commented:

We're delighted to have been involved in a project that encourages people to be more active. Small changes can have a big impact on the environment and the health benefits of active travel are clear.