Pindar Creative
Pindar Creative achieve Modeshift STARS Bronze Accreditation
8 February 2023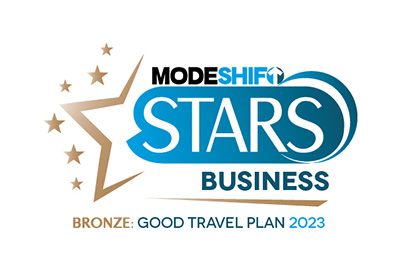 Pindar Creative continues to show its commitment to active and sustainable travel by achieving 'Bronze level' Modeshift STARS accreditation.
Modeshift STARS is the Centre of Excellence for the delivery of Effective Travel Plans in Education, Business and Community settings. The scheme recognises schools, businesses and other organisations that have shown excellence in supporting cycling, walking and other forms of sustainable and active travel.
Modeshift STARS aims include:
Promoting healthier lifestyles
Creating safer environments
Promote sustainable development
Improving air quality
To find out more about the Modeshift STARS accreditation visit: https://modeshiftstars.org/accreditation/
Carl Thomas, Managing Director at Pindar Creative commented:

We're delighted to have been awarded 'Bronze level' certification just months after achieving 'Green level'. The company is ISO 14001 certified and this award demonstrates our commitment to reducing our impact on the environment.