Pindar Creative
Pindar Creative achieve Mayor of London's Good Work Standard & Living Wage Accreditations
14 July 2023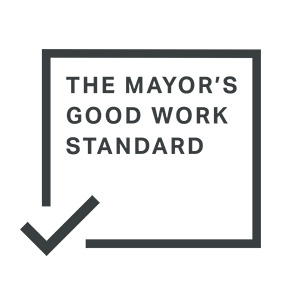 As well as recently being accredited as a Living Wage employer, Pindar Creative are delighted to announce we have also been accredited the Mayor of London's Good Work Standard.
The Mayor of London launched his Good Work Standard as part of his commitment to making London the best city in the world to work.
We are pleased to be one of the Mayor's Good Work Standard employers in London. We believe this is an important recognition of our commitment to our people. It also reflects the many ways in which we are striving for the best possible working conditions for our employees.
Our accreditation was rewarded for our:
our engagement with BPIF on a joint Health and Safety Committee
engaging with a local Amersham college to provide design projects to local students
encouraging suppliers in the supply chain to adopt the Living Wage and championing good work via procurement
our employee wellbeing policy encouraging flexible work and group activities at away from desks
The Mayor's Good Work Standard sets the benchmark for the best employment standards and helps employers contribute to a fairer and more inclusive London economy. This means an economy that works for all Londoners and means more residents can access good jobs.
The Good Work Standard recognises best practice across four pillars; fair pay and conditions, workplace wellbeing, skills and progression and diversity and recruitment.
To make this happen, the Mayor is working with businesses like ours to celebrate excellent work practices and assist businesses in adopting best practice approaches by bringing together a range of support and resources. Accredited employers currently cover retail, care, finance, banking, local government, media, the culture and creative industries, charities and more.
By signing up to the Mayor's Good Work Standard, employers signal that they are committed to healthy, fair and inclusive workplaces. We know this is an important step in attracting and retaining a diverse, talented and successful workforce and we hope to assist other businesses in realising these benefits.
To read more about the Mayor's Good Work Standard, visit The Good Work Standard (GWS) | London City Hall and the Living Wage Foundation.