SciLabware choose Pindar Creative to build their new Azlon® ecommerce website
Tuesday, 25 March 2014
About Azlon®
For more than half a century the Azlon® name has been synonymous with high quality affordable plastic laboratory ware.
Azlon® reusable plastics cover a broad range of applications in the modern laboratory, offering more than 800 products, including bottles, wash bottles, measuring cylinders, jugs and beakers.
Leadership in polymer science and many important innovations have combined to make Azlon® one of the most widely known and respected brands in durable plastic labware.
The Requirement
When SciLabware decided to market their range of Azlon® range of products to a worldwide audience they needed to identify an ecommerce partner that would understand the complexities of the project and that could guide them through the process of building the site step by step. After working with SciLabware on their main website for several years, Pindar Creative were delighted to be chosen to deliver the project.
The brief for the new website – developed on the Magento platform – focussed on functional design, clear navigation, easy shopping functionality for customers and to be accessible from all mobile platforms. The new website also needed to work with SciLabware's PIM (Product Information Management) System 'Agility'.
Using Pindar Creative's bespoke Agility to Magento plug-in 'ActiveXMLSync', product and pricing data is automatically imported into Magento from SciLabware's PIM system.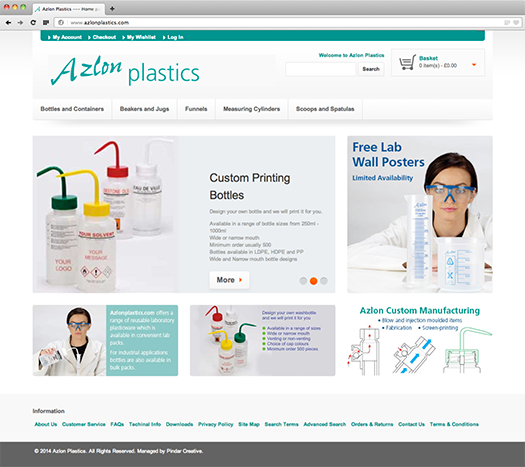 Andy Davies – Sales & Marketing Director for SciLabware said:

Getting the right product in the right place, at the right time is widely accepted as a winning formula for many companies. This sentiment embodies latest SciLabware marketing initiative to bring our Azlon plastic product portfolio directly to a wider audience. As a long term supplier of digital services, Pindar Creative supported our objective in designing, developing and delivering a full ecommerce website. The website has many novel features for SciLabware and as such, holds much promise for the future development of our online presence as we reach out to new customers...

Carl Thomas, Group Technical Director for Pindar Creative said:

Pindar Creative's adoption of the Magento platform allows its customers greater flexibility in the ecommerce environment. Having worked closely with SciLabware for a number of years, the next logical phase was to assist in the delivery of a new ecommerce system to allow SciLabware to extend their online presence on new platforms such as tablets and smartphones. Publishing their content from the Agility PIM via ActiveXMLSync allows SciLabware to quickly and easily update their product content giving them the flexibility to be reactive to market changes.