Bristol Maid revamp their website
Thursday, 30 October 2014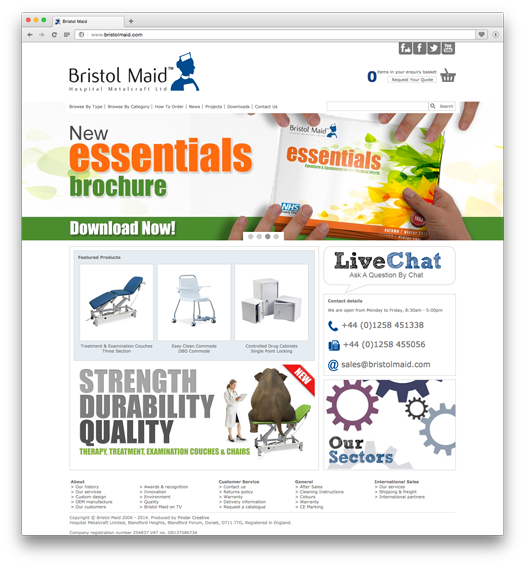 Based in Blandford Forum, Dorset, Hospital Metalcraft Ltd is a manufacturer and supplier of medical furniture and equipment known for market leading design, innovation and build quality through the nationally recognised Bristol Maid brand.
With extensive knowledge and experience developed over the last sixty years, the company have developed strong relationships working together with their customers. This is reflected in the new redeveloped website, designed with the customer in mind, giving improved functionality with the focus on faster, clearer and easier to navigate web pages.
Using Agility Multichannel PIM system and Pindar Creative's ecommerce engine, Active Catalogue, Bristol Maid have rearranged their product data into two distinct classifications (product type or category) allowing users to navigate to products much quicker than before. There is also a new powerful and more intelligent search bar, revamped product pages and more ways to contact Bristol Maid on every page giving a vastly improved user experience.
Rik Withall, Bristol Maid's Marketing Coordinator commented:

Working in partnership with Pindar Creative has allowed us to work on areas of the website we wanted to really develop and improve. By listening, discussing and developing our ideas, they have created a completely new website that does exactly what we wanted, easy to navigate and customer focussed.