Pindar Creative
Pindar Creative Award
09 November 2018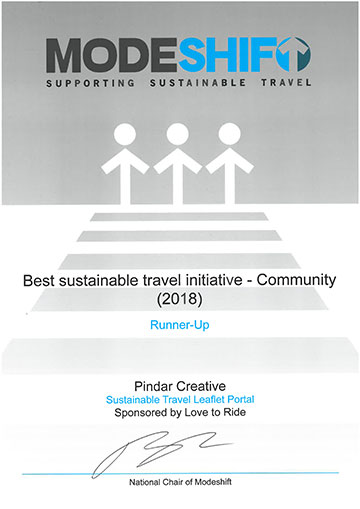 We are delighted to announce that Pindar Creative has been awarded runner-up in 'Best Sustainable Travel Initiative - Community' at the recent Modeshift conference in Sheffield for the development of our 'Sustainable Travel Leaflet Portal'.
SALI (Semi-Automated Leaflet Information) is an online portal to allow establishments to generate sustainable travel leaflets (web and print) for their location. Using OpenStreetMap mapping and combining with one of a series of pre-defined templates (businesses/schools/groups), users are able to create tailored publications.
SALI is already being used by a number of organisations to generate publicity to actively promote sustainable travel, including Buckinghamshire County Council, PWLC, Leicestershire County Council, Living Streets London, Lancashire County Council, and Living Streets West Yorkshire.
Carl Thomas, Managing Director at Pindar Creative said:

Since first developing our SALI software for the North East Combined Authority's 'Go-Smarter' initiative, we have seen interest grow as schools, colleges, businesses and councils are keen to promote active travel. SALI complements our existing suite of internally developed travel related software solutions and as more and more customers adopt SALI, we are seeing the functionality expand to allow greater flexibility.

Give the sales team a call to gain free access to our demo site so you can try it for yourself.