Workflow Tool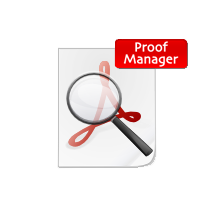 Publication production typically involves many people producing and checking proofs through several different proofing stages.
Administering this process correctly is vital, but very time consuming:
Ensuring the correct page proof goes to the correct people in the correct order
Ensuring proofs are turned around in a timely manner
Ensuring you know at any given time who has a page and what stage that page is at
Identifying and addressing bottlenecks
Keeping a viable audit trail of previous proofs and of who did what, and when
Failing to address these processes correctly leads to high page production costs and to drawn out production schedules and missed deadlines.
Traditionally, these processes have been managed manually. This involves tying up key skilled staff in administrative work. It is a practice that is expensive, demoralising and prone to error.
Proof Manager® has been developed to address this by automating the routing and tracking of proofs. It directs documents such as proofs to all relevant parties through each of the page production stages.
Proof Manager® can track and route many types of documents including PDFs, Word documents, Excel spreadsheets, Quark and InDesign files, image files, page briefs, and product allocation forms. Proof Manager® can also track and manage different types of objects including pages, spreads, sections, versions, images and jobs.
As Proof Manager® works over a web browser it's easy to use and administer. It requires no special client hardware or software, other than a web browser and Adobe Acrobat Reader, so costs are kept to a minimum and deployment is straightforward.
Features and Benefits
Reduced and simplified administrative effort
Improved schedule adherence
Improved resource usage through bottleneck identification
On-going improvement through post production analysis