Mobile Optimisation

2010/11 was a massive expansion in the use of mobiel devices for Internet content and QR codes are playing an increasingly important part in getting content onto user's mobile devices.
However, many companies push content designed for standard browsers to mobile devices which makes accessing the content difficult if not impossible.
Here at Pindar Creative, we have been working to make sure our products that are targeted at devices such as Smartphone and tablets are actually formated and work correctly for these platforms.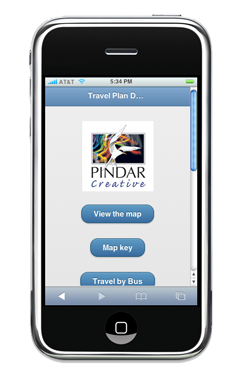 Advantages of using QR codes
QR codes can link to data to provide up-to-date information
The URL page can provide additional complimentary information to printed publicity
There's no need to write down vital details. A simple scan captures the desired information
Saves the user time to locate information
No need to use search engines
Ensures the user is linking to correct URL
A simple cost-effective solution to add value to existing marketing material
Sustainable Travel Solutions
We offer a standard Sustainable Travel Solution to compliment our standard print publications in the form of an interactive website. If you compare the solutions, you can see the different formats used for the alternative platforms.