Pindar Creative
Walking and Cycling Maps for Argyll and Bute Council
8 April 2020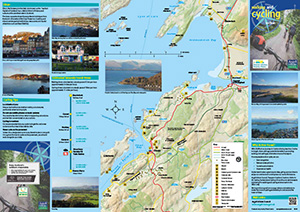 Known as Scotland's adventure coast, Argyll and Bute's unique landscape of mountains, lochs, beaches, islands and forests combine to offer fantastic scenery making it a great place to enjoy the outdoors on foot or by bike. Coinciding with Scotland's Year of Coasts and Waters 2020, Argyll and Bute Council secured Smarter Choices Smarter Places funding enabling them to update two of their walking and cycling guides.
Pindar Creative was selected to recreate the Oban and Isle of Bute guides, and while the council wanted to ensure consistency across their series of maps, they were also open to ideas on how the design of the maps could be improved.
The existing guides utilised OS Street View as a rasterised base map; as the Ordnance Survey ceased maintenance of this dataset in 2016, we suggested using OS Open Map as an alternative and this vector dataset was styled to match the existing map series. We also suggested adding hill-shading to give users an indication of the varied landscape. A linear map enables users to gauge distances in miles and kilometres and travel times by bike and on foot, and a scale bar was added to the town and area maps. Hill-shading was also added to Argyll and Bute Council's existing Campbeltown and Dunoon maps.
The maps distinguish between on- and off-road National Cycle Network routes, and clearly shows paths, points of interest, bus stops, and ferry terminals and routes. Intended for both residents and visitors to the area, the guides aim to encourage people to walk or cycle to key destinations in and around the towns. Once approved the maps were printed on Polyart resulting in a durable and waterproof folded map.
Carl Thomas, Managing Director at Pindar Creative:

We're delighted to have been involved in a project that encourages people to enjoy such a varied landscape by bike or on foot. Our skilled cartographers understand that legible mapping is key to enhancing the travel experience and enabling people to navigate to and through an area instinctively. Clear and concise mapping should help people make informed decisions between different modes of transport regardless of whether they are visiting or already familiar with the area.